Do you have a Side Hustle? Are you thinking of starting a Side Hustle? Participate in the SIDE HUSTLE EXPO - February 8th and you could win:
Grand Prize: A DIGITAL MARKETING PACKAGE
Two Runners-up Prize: $100 Wolf Bucks each
People's Choice Prize: $75 Wolf Bucks
This is your chance to showcase your service or product to new customers and compete to win a Digital Marketing Package that will help you reach even more potential customers!   
Whether you make jewelry, bake muffins, produce videos or recordings; are a dog-walker, play gigs, take photos or pursue any other venture to earn extra cash, this is your golden opportunity.
Want to be a part of the showcase?  Sign up here.
IMPORTANT DEADLINES
Application Deadline: Friiday, March 25, 2022 (Sign up here)
Presentation Training: Tuesday, March 29, 2022; 12:30-1:30
Expo: Tuesday, April 5, 2022
Location: Danna Center
DAY OF TIMING
10:00-11:00 Displays dropped off for set up
11-12:30 Side Hustle Judging
12:30 - 1:30 Open to Public
12:45-1:00pm Keynote Speaker: Robert LeBlanc, Successful New Orleans Restaurateur and Hotelier; and Loyola Alumni and Board Trustee, "Lessons learned as an entrepreneur"
1:00-1:15 Awards Ceremony
Questions:  innovate@loyno.edu
REQUIRED:
1. SIGN UP
2. Get a Science Board (remember from High School?)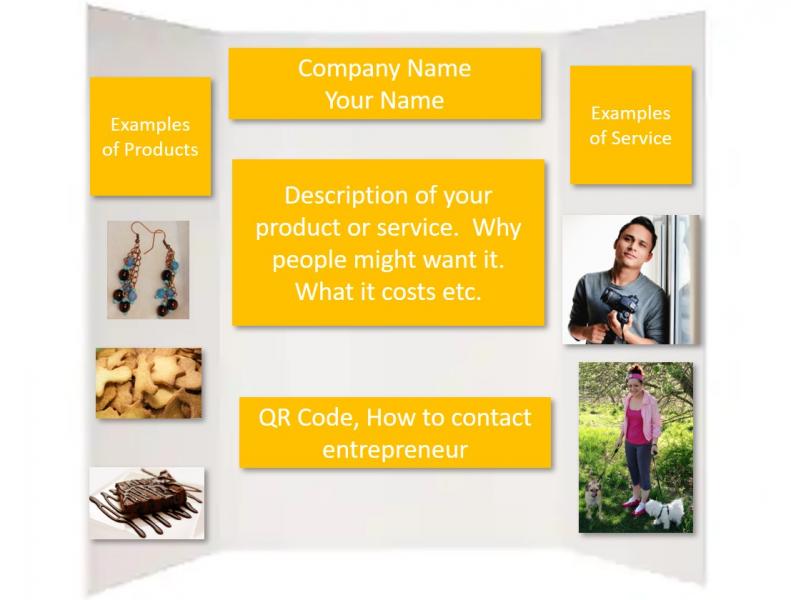 3. Add the following to your board: (your board should be able to tell the judges everything they need to know about your side hustle)
Lots of pictures
Your business name if you have one
Your name
Your university affiliation: ie Student (graduation year), Alumni, Staff
A description of what service or product you offer
How much have you sold so far (dollars or volume)?
A description of your customer (s) 
Your goals for the next 12 months
What kinds of support you need to achieve your goals
Have business cards and/or a QR Code so people can find you after the Expo
No sales will take place directly during the Expo.  If you have anything you want to sell, bring examples and take orders. 
4. Show up to speak with all the attendees and collect customer information