CECD Entrepreneur-in-Residence: Kyle Berner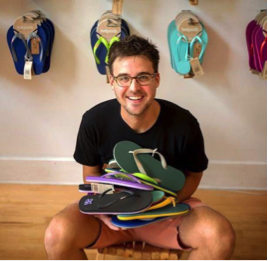 After graduating in 2003 as a Marketing major and backpacking through Thailand, Kyle founded FeelGoodz, a global brand of footwear that uses all-natural Thai rubber crafted by artisans and cooperatives all around the globe.  You can say hi to Kyle and also try out FeelGoodz footwear in Kyle's office, located in Miller 351. 
CECD Entrepreneur-in-Residence: Ravi Prakash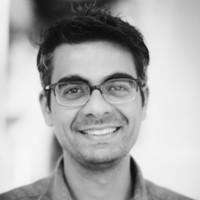 As the Head of Product at CivicSource and the former Solutions Architect at a consulting and accelerator firm, Ravi brings a wealth of knowledge and experience to the CECD. Ravi is also the former CTO of DinnerLab where he led product management, CRM implementation, backend developement and digital marketing. Drop in and say hi to Ravi in his office in Miller 347.
2018 Lean LaunchPad Executive Coaches & Mentors
ALAN ARNOLD
Past CEO Howard, Weil, Labouisse, Friedrichs & Co.
Alan served two-year active duty as a lieutenant in the Army Field Artillery before starting his career at Howard, Weil, Labouisse, Friedrichs & Co. In 1976, he was named Executive Vice President and assumed broader management responsibilities before assuming the position as President of the firm in 1985.
RICHARD BABB
CFO & Partner Louisiana Fund I
Richard is the managing director of Louisiana Fund I with experience in early and growth stage investing. He has over 20 years of diverse business, accounting, and financial management experience. Previously, he was a Manager at Ernst & Young's Entrepreneurial Services Group and worked with various venture capital clients.
BEAU BABST
Product Manager Oseberg
Beau is the product manager for Oseberg, an energy tech startup based in New Orleans and Oklahoma City, and has raised $10 million in private equity to help fund new product development and expansion plans.
TOM CAMPBELL
International Executive Iron Mountain & Lagniappe Angel Fund
Tom is an international executive aiming to buy and grow small companies and/or work with investors to drive sector consolidation. Prior to becoming an executive committee member of Lagniappe Angels, he was the Senior Vice President of Customer Technology at Iron Mountain, a leading provider of storage and information management services.
TOM "JOEL" DASTE
President Gulf National LLC
Joel specializes in debt restructuring in a variety of industries and loan portfolio management. He has been admitted in both State and Federal courts as an expert on Loan Valuation, Troubled Debt Restructuring, and Turnaround Financing.
FOSTER DUNCAN
Operating Partner Bernhard Capital Partners
Foster is an operating partner at Bernhard Capital Partners, a private equity fund in Baton Rouge, Louisiana, and a senior advisor for EHS Partners, a consulting firm in New York City. He also serves on the boards for Greentech Capital Advisors and Atlantic Power Corporation.
RA'SHAUD HAINES
Co-Founder Vedifin
Ra'shaud is a co founder of Vedifin LLC, and is the Chief Lending Director at Dolphin Debit Access. He was previously the Vice President at Liberty Bank & Trust Co. and he was also a KCIB Analyst at Key Bank.
MATT HART
Associate Advantage Capital Partners
Matt joined Advantage Capital Partners in 2015 as an associate. He supports investor relations, fund formation, capital raising transactions and the firm's national expansion efforts. Prior to joining the firm, he worked as a corporate attorney for an international law firm where he specialized in venture capital financing, assisting start-up companies from seed stage investment to public offerings.
LEO HOLZENTHAL
President M S Benbow & Associates
Leo is responsible for managing the day to day operations at MSB and ensuring client satisfaction. Holzenthal has more than 30 years of experience as an electrical, telecommunications and control systems engineer and has managed countless projects in all phases, from design and documentation to project execution.
JOHN KAZOUR
President Petrotech
John is the President at Petrotech, a 30-year-old company supplying industrial automation & instrumentation systems that control turbomachinery assets and equipment. Over the last 25 years, John has held several senior management positions in the Industrial Automation market with leading companies such as ABB/Elsag-Bailey, Thermo Electron and Roper Industries.
OLIN KROPOG
President & CEO Wechem, Inc.
Olin is the President/CEO of Wechem Inc. Prior to Wechem, he served as the Vice President, General Manager, and Senior Executive for various communications companies (from startups to Fortune 500 companies).
BILLY MARCHAL
Founder & Past CEO Navigation Data Systems, Inc.
Billy started and managed the Products Division within Offshore Navigation, Inc., an offshore oilfield service company. In 1978 AND under his direction, the Products Division developed and marketed the world's first vehicle tracking systems with initial applications in the aviation industry. In 1990, He founded Navigation Data Systems, Inc.; with twenty-five employees and revenues of $25 million, NDS installed over 60 vehicle tracking systems for air traffic control and fleet dispatch on five continents prior to being purchased by Ericsson USA in 2000.
TOM MORAN
Director, Business Development Bourgeois Bennett
Tom is the Director of Business Development at Bourgeois Bennett. He previously served as the Chief Financial Officer for Adriatic Marine, LLC, and as Director of Internal Audit at Stewart Enterprises.
ABHAY PATEL
VP, Business Development NOLA Business Alliance
Abhay Patel currently serves as the Vice President of Business Development for the New Orleans Business Alliance, where he is responsible for corporate retention, expansion and attraction activities. Prior to joining NOLABA, Abhay spent most of his professional career working as an investment banker, including seven years with Deutsche Bank in New York. 
KEITH PORTA
President APC Construction, LLC
Keith started APC Construction, LLC as a subcontractor working in New Orleans, LA. Over the years, APC Construction has grown to be a full-service, licensed & fully insured/bonded general contractor and sub contractor.
AIMEE QUIRK
CEO innovationOchsner
Aimee is currently the CEO at innovationOchsner. Previously, she was the Senior Advisor to the Mayor for Economic Development in the City of New Orleans and was also a partner at Jones Walker LLP. 
BARRY TASSIN
Partner B2B CFO
Barry is currently a partner of B2B CFO, the nation's largest provider of CFO Services and Exit Strategy Services to owners of privately-held companies throughout the United States. Prior to B2B CFO, he was the Chief Financial Officer at Arkel International.
COREY TISDALE
CEO Shopperschoice.com
Before becoming CEO, Corey was the COO at ShoppersChoice.com where he designed an ecommerce platform that offers enterprise features and scales horizontally on commodity hardware. He is also the owner of Eye Want Media, LLC, a business that offers low cost web design to businesses that need it.
GUY WILLIAMS
CEO Gulf Coast Bank And Trust
Guy has been the CEO of Gulf Coast Bank and Trust for over 25 years. He also serves as a member of the Board of Directors for Habitat for Humanity, The Louisiana Housing Corporation, and Christ Community Health Center Greater New Orleans, Inc. He previously served as President of the Louisiana Banker's Association. 
DAVID "DAVE" GUILFORD
Finance & Technology Consultant KRW International
Dave currently works for KRW International, Inc. in the Greater New Orleans area. He worked in the Paris area prior to returning to New Orleans, working for KRW in Paris as well as working in Accounting/ Information Technology for the US Embassy in Paris. He also started True South Yacht Services in New Orleans following Hurricane Katrina, where he grew the company to the 3rd largest yacht brokerage in the state of Louisiana.